There's not a whole lot that can beat a good camping trip. After all, what can compare to inhaling fresh, clean air and becoming one with nature? If these are things you wish to start doing, the ideas in the following paragraphs can help guide you towards this.
Although it is not an essential part of your back country camping gear, a machete is something that you may consider packing depending on where you are going. It is a very versatile tool in the wilderness. You can cut a trail, hack bamboo and vines for shelter, cut coconuts for water, chop firewood, and even use it as protection against wild animals.
Particularly, if you have children, you need to consider what to do if you have inclement weather one day. Gather together a few supplies to have on hand in case you need to stay in your tent. Bring a board game, play doh and art supplies. Don't let your family members touch these items until it rains so that they don't lose their appeal.
If you are traveling with children, consider staying at a campground that is specifically designated for families. Campers in these areas know what to expect and will not have an issue if you have a cranky toddler or your children want to run around, scream and play. You will probably be more relaxed as a result and have a better time.
Make sure that you avoid any venomous plants. A good way to do this is to stop at the ranger station and ask what kinds of poisonous plants are in the area so you can identify them if you come into contact with them on the trail. Never eat anything while hiking on the trail if you do not know it is edible.
Collect more wood than you think you are going ot need. Unless you go camping every day, you probably don't have an accurate idea of what "enough wood" actually looks like. You can always leave the extra wood in a pile as a gift for anyone that uses the campsite after you.
If you have a young child with you, do the math in advance with respect to how much baby food or formula they will need. Make sure you have supplies for them that will last the entire length of your trip. There are no guarantees that a store near your campsite will have these items or will have the type of items that you want.
Is this your first tent? Practice putting your tent up before going camping. This will help you to be prepared with the right equipment and skills to pitch your tent with ease. This is ideal, as even if you end up at your campsite while the sunlight is fading you will be able to quickly set up your camp.
Take along a fire extinguisher! You never know when a fire can spread. Being prepared to put it out quickly could save your life, your gear and the woods around you. Find one that is capable of putting out fires of all kinds to be sure you are prepared to extinguish them all.
When looking into a campground, inquire about the different fees they may charge. You may find that you are charged for water, electric, fire wood and additional campers. Learning the fees ahead of time will allow you to properly budget for your camping trip. It will help you avoid becoming stressed at the gates and ruining your trip.
Part of the fun of camping is cooking over an open fire or on a camp stove. To make sure you don't forget to pack any key ingredients, make a list of the meals you plan on preparing. Don't forget to take a small cutting board along with you so you have a clean surface for food preparation. Also remember to pack a couple of potholder or oven mitts to handle hot utensils, such as marshmallow forks.
If you haven't camped before, then now is not the time to start being a hermit. Ask an experienced friend to go with you and show you the ropes. As you become more advanced in the hobby you can start to take small and then larger trips alone and get your hermitude on.
Ensure that you clean your campsite up whenever you finish using it. Pick up any piece of trash you can find. This is just common courtesy for the people who will be using it whenever you finish. You would want and expect the same thing in return from other people.
Bringing your survival kit and first aid kit is crucial. These are things that can make a big difference when things go wrong so you don't have to abort your trip early. Being prepared also keeps minor emergencies from becoming major emergencies.
You should carry a survival knife on your camping trips. This portable knife can be used for hunting, for protection, and for a signal if you need help. You need to carry one that is durable, so try to invest in a quality knife from an outdoor goods or camping store.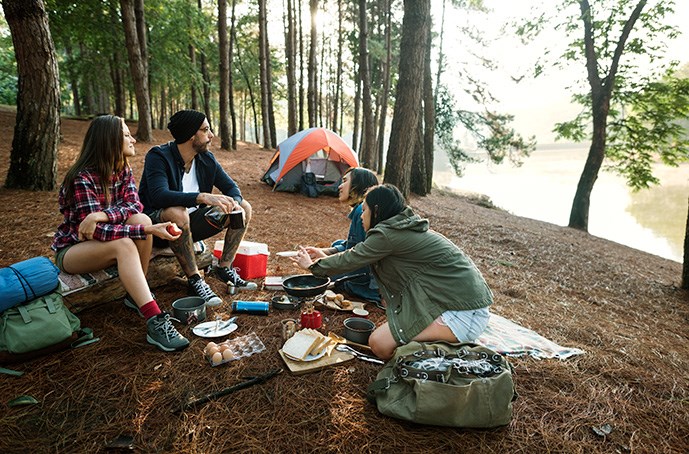 It's a good idea to maintain hygiene when camping. Items like washcloths, sponges, bowls, biodegradable soaps, toothbrushes, toothpaste, baking soda, floss, and clean water can help you stay clean during your trip. You can also use hand sanitizer, rubbing alcohol, and cotton balls on non-sensitive areas. Don't use anything with fragrances since they can attract bugs.
Always carry a first-aid kit with you while camping. It should include bandages, antibiotic ointment, wrap bandages for sprains and strains, and peroxide or alcohol for cleaning wounds. Scissors, tweezers and other small tools can be used to remove splinters or ticks. Antacids, over-the-counter pain medicines, and allergy medicines should also be included.
To sum it up, camping is a wonderful way to spend your vacation time. The air, the things in nature and all of the land are great things to check out when you're camping. Use these tips to have a relaxing trip to your desired location.